Portfolio Management & Optimization
Take the Guesswork Out of Major Gifts
GivingDNA makes it easy to manage, optimize, and create high-performing portfolios.
Book a Demo
Major gift programs need more donor prospects than ever before. But it can be time-consuming to research new prospects, and hard to convince gift officers to cultivate new donors when they have built relationships with donors who never give.
GivingDNA allows you to make swift decisions and raise more major gifts, faster.
Your Major Gifts Program at a Glance
See powerful visualizations with a click.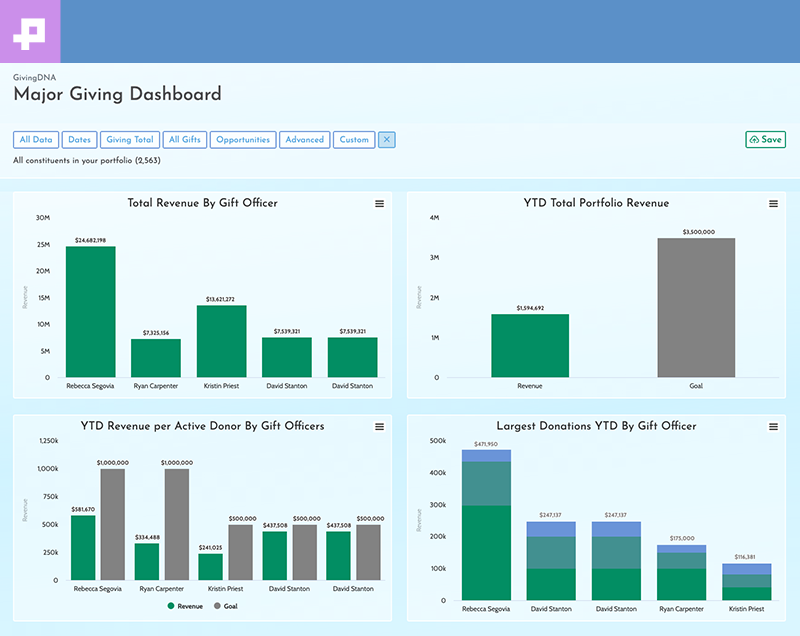 Managing a successful mid-level and major gifts program shouldn't be a headache.
GivingDNA helps gift officers answer:
Am I on target to hit my goals?
How is my donor retention year-over-year?
Is the average gift rising, or concentrated on fewer large donations?
Get a Demo
Find New Major Gifts Prospects
Eliminate time stuck in spreadsheets.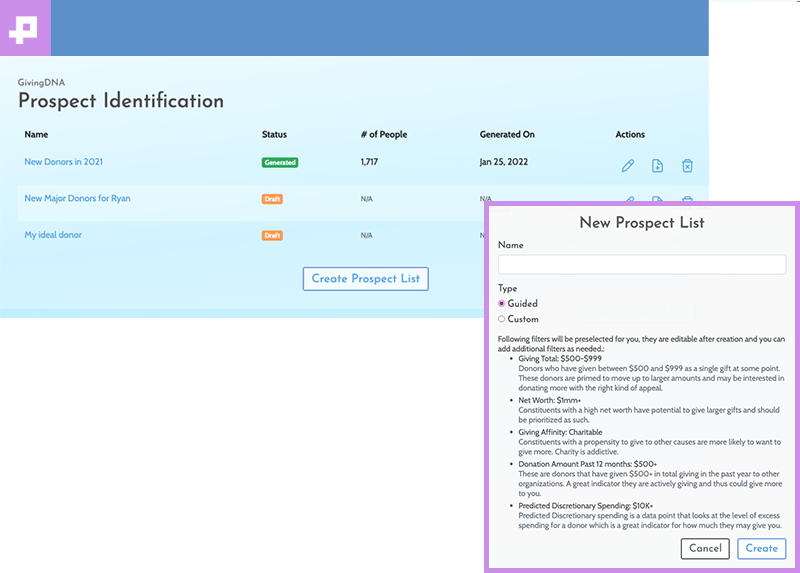 Cut your prospect research time to a minimum.
GivingDNA allows gift officers to:
Focus on donors in smaller regions or territories
Group donors who are supporting similar organizations and see their giving levels
Find donors with the most capacity, assets, and disposable income
Get a Demo
Optimize Portfolios Instantly
Save gift officers' time and effort.
Ensure the RIGHT donors are in your gift officers' portfolios.
GivingDNA empowers gift officers to:
Filter and sort portfolios to identify donors who should be removed
Save travel costs by viewing the geographic concentration of prospects
See stories hiding in your portfolios by viewing demographic, financial, and psychographic data
Get a Demo
"GivingDNA is a highly valuable, cost-effective tool that has helped us recognize who our best donors and prospects are so our major gift officers are spending time with the right people."
- Jennifer Jackson, Director of Donor Services and Analytics