Reporting Features
See the stories in your data to create powerful strategies.
Easy reporting saves you time and instantly uncovers opportunities & challenges.
Book a Demo
Nonprofits are now a data company, but you're not a data scientist. You have important work to do, but data is getting in your way. What if you could see the health of your organization without an analyst?
We created GivingDNA to make reporting simple, easy, and quick.
See the Health of Your Fundraising
Get insights at a glance.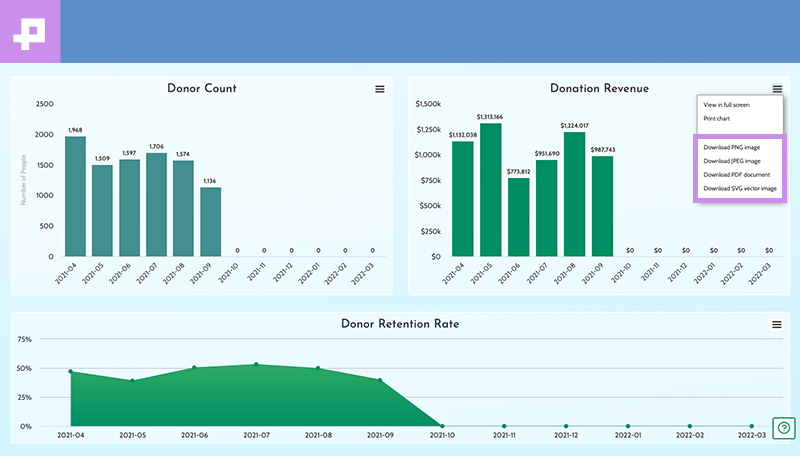 Data analysis shouldn't take days. With GivingDNA, you get insights in minutes.
GivingDNA helps you answer...
Are we on target to hit our goals?
Is retention trending up or down? Why?
Which campaigns are performing the best?
Are donors upgrading, lapsing, or stagnating?
Get a Demo
Manage Your Teams for Success
Create mid-level and major giving with a click.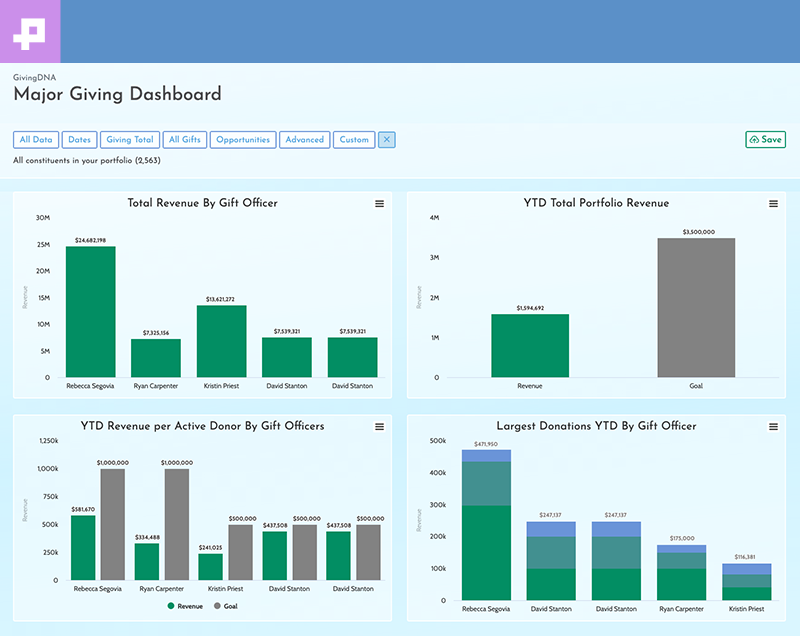 GivingDNA removes the guesswork in managing gift officer performance.
You are able to:
See the total revenue raised per gift officer
Track donor retention rates
View revenue raised to goal
Optimize individual portfolios and ask amounts
Map where prospects live to save on travel costs
See traditional wealth screening metrics like RFM
The best part? Download charts with a click!
Get a Demo
Fuel Your Entire Fundraising Strategy
External data enhances your entire file. Augmented intelligence tells you what to do next.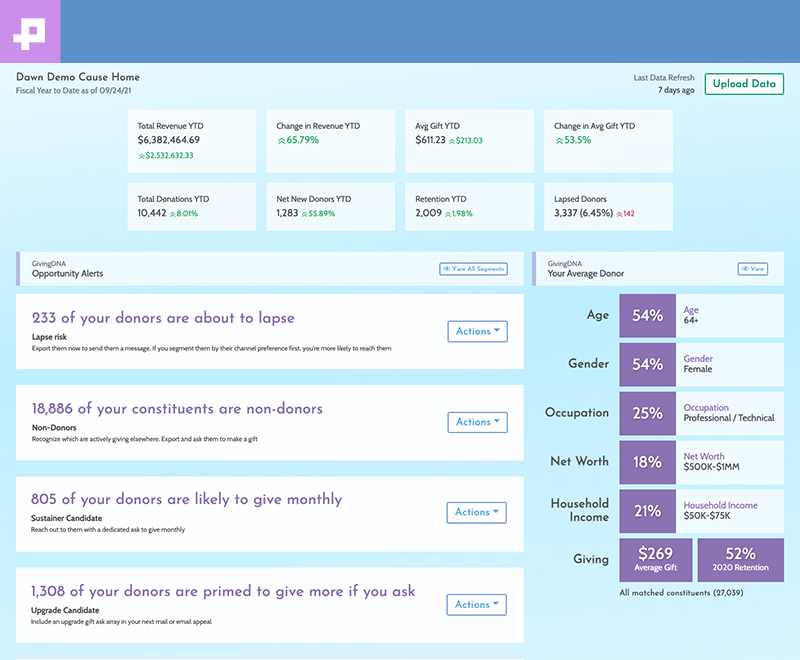 Find opportunities in a click.
GivingDNA's Opportunity Alerts empower you to:
Quickly identify donors at risk of lapsing
Understand what non-donors care about
Identify which donors are exhibiting the behavior of a monthly or planned giver
Upgrade donors who should be giving you more in your annual appeal
Get a Demo
"[T]he most useful things for me within GivingDNA have been the acquisition of donor information when building personas for our organization. Specifically, being able to export the graphs; make analytical comparisons about whom to send out monthly appeals, etc.; and the ability to dissect giving trends to understand discrepancies either higher or lower than previous years. I appreciate the search bar tremendously!"
- Wendy Adams, Director of Donor Engagement