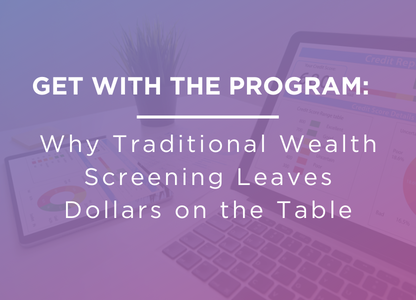 Are you still relying on traditional wealth screening methods to gain insights into your constituents? Unfortunately, these outdated practices are not only expensive but often counterproductive, resulting in skewed data outcomes. Nonprofit organizations have traditionally conducted wealth screenings every three to five years, but the data collected is not always accurate. In fact, using traditional methods can lead to omissions and inaccuracies that dramatically impact donor data results.
As Windfall Senior Vice President and Co-Founder Dan Stevens explains, even a common name can cause confusion and inaccurate data outcomes. It's time to explore new, more accurate methods of wealth screening to ensure your nonprofit is obtaining the most precise information about your donors.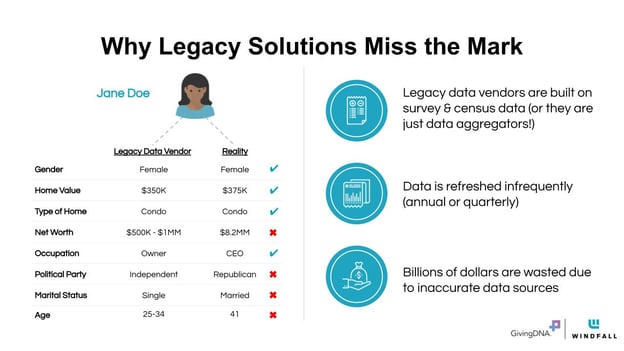 Deterministic, or first-party, data is vital in analyzing the wealth and giving potential of donors. Legacy solutions only look at a few data points (surveys and census data, for example) when generating results. The only way to get accurate data is to use multiple data points, which traditional wealth screening tools and methods do not allow for.
Forming a Better Prediction of Wealth
For an accurate wealth screening, it is essential to understand gift capacity and the value researchers place on it. Most fundraising professionals use viable assets, real estate holdings, nonprofit board memberships, and historical gifts to create donor-giving capacity.
In this Wealth Screening whitepaper, Windfall shares how to calculate "Total Philanthropic Capacity," which is the estimate of the amount an individual can donate for philanthropic purposes over five years. Their report estimates total gift capacity by using 20–25% of the value of their real estate holdings.
For example:
Our prospect David Jones has real estate holdings worth $3.5 million. Using the strategy above, we find: Total Philanthropic Capacity is $3.5 million * 20% = $700,000. Divide by 5 for annual gift capacity over five years: $700,000 / 5 = $140,000.
The Windfall Approach
The Windfall approach assumes "net worth is a much better representation of the dollars that you might target from a particular individual," explains Dan.
How can you utilize the Windfall approach to screen wealth?
Utilizing the data from your database, input your donor's information into this equation to see a more accurate picture of their net worth:
Assets - Liabilities = Net Worth
Windfall and GivingDNA vs. Traditional Wealth Screening Data Analysis
Let's see how Windfall and GivingDNA measure up to traditional wealth screening data analysis.
Windfall and GivingDNA partner to focus on net worth for US households, especially for the affluent, which is modeled at the household level based on deterministic inputs. Traditional wealth screening relies heavily on survey and census data, which isn't updated frequently. With Windfall and GivingDNA, data is updated on an unlimited weekly or monthly basis.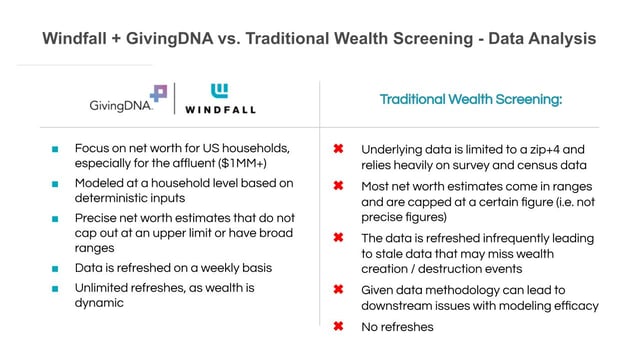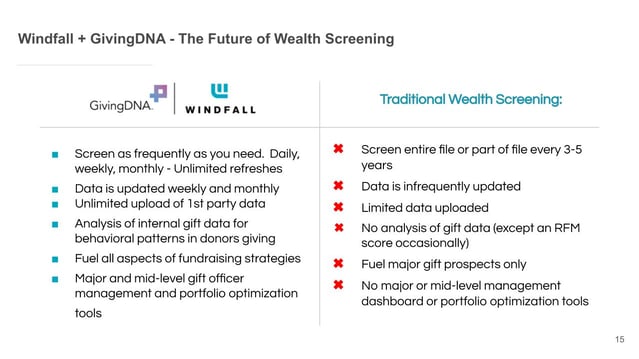 The wealth screening data provided by Windfall and GivingDNA is pulled from multiple fields. "GivingDNA's data set is focused on relationship building as well as understanding. Windfall data is career and financial driven," explains Dawn Galasso, Vice President of GivingDNA.
GivingDNA datasets are broken up into five major data categories:
Demographic information

Financial details

Psychographic data (attitudes, values)

Giving behavior

Communication preferences
These data sets give an in-depth analysis of donor wealth and behavior. Galasso emphasizes the importance of demographic data and communications preferences. Knowing and understanding your donor communication preference is key in selecting the best way to reach out to them to make an ask.
How Can Windfall and GivingDNA help?
Windfall and GivingDNA allow you to see the full picture of your donor's perspective wealth and philanthropic potential with unlimited donor data screening, analysis of data for behavioral patterns, and tools to help your team manage mid and major gifts.
GivingDNA is an all-in-one fundraising analytics, data visualization, and wealth screening tool that allows you to gain insights, better understand your donors and quickly see results. Explore what's possible—book a demo.
Windfall is currently offering a free wealth analytics report to help you understand the segmentation of wealthy donors from your data. To understand the wealth levels in your data, click here.