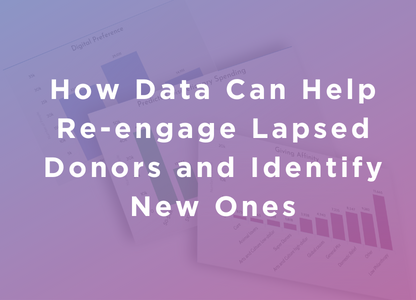 If you're running a nonprofit, you know that donor retention is key to your success. But did you know that a staggering 70 percent of donors make just one gift and then disappear? That's where GivingDNA comes in. With their cutting-edge technology, they can help you identify these donors and re-engage with them to build long-term relationships. And with 2023 now underway, there's no better time to start spring cleaning your donor database and making sure you're set up for success.
GivingDNA also allows you to see if these potential donors gave to other charitable organizations. In 2022, a study from Fidelity Charitable found that while the number of nonprofits people donated to decreased, the dollar amount of donations given increased, despite economic uncertainty. GivingDNA can help you and your organization become an essential item in a donor's budget turning non-donors into donors and helping you re-engage with your lapsed donors by homing in on what matters most to them.
So let's dive into how GivingDNA can help you turn one-time supporters into lifelong advocates for your cause.
Why Pull from Your Database:
When your organization's budgets (and the budgets of potential donors) are tight, it is beneficial to go back through your database to identify those who are already familiar with your brand, rather than start at the top of the marketing funnel. Because buying acquisition lists and building loyalty among new potential donors is costly and time-consuming, going back to your one-time donors and non-donor constituents will save you a lot of time and resources.
Once you've identified the lapsed donors and non-donors you would like to activate, conduct further analysis to learn in which channels they most prefer to communicate and give. The great news is that GivingDNA allows you to not only identify prime segments for outreach, it can also provide insights as to how they would like to be engaged. It can show you whether they prefer in-person events, digital communications, and what their interests are.
How GivingDNA can help:
Hear GivingDNA's Vice President of Client Success, Ryan Carpenter explain how easy it is to reactivate your year-end lapsed donors using GivingDNA:
Learn how GivingDNA can help identify non-donors in your database who are likely to convert:
Putting it all together:
Every organization has lapsed and non-donors in its database. By utilizing data analytics from GivingDNA, your organization can quickly identify these donors and help you convert them into long-term donors.
Combining what you know about them already with the insights GivingDNA can provide, your fundraising team will be able to curate the right message and experience to convert them. GivingDNA helps you understand what people's interests are, the causes they support which you can align with the work your organization does and the platform also tells you the channels they prefer to engage through and are most likely to be reached and see your message.
Book a demo to learn how GivingDNA can help your organization.