This is the second post in a series about year-end giving. Read part one here.
Data, a communications roadmap, tools, partnerships — check, check, check, and check. Congratulations! You're now ready to act on your plans.
Your first step should focus on building a pre-launch buzz. In the weeks leading up to your campaign, you can stoke excitement and awareness by activating partnerships via social media, blog posts, or other channels. For example, you might reach new audiences by drafting pre-written and designed content that partners or influencers can share on social media. You can also send postcards with personalized URLs that allow you to track when recipients move their attention online like your website, where you can more easily capture their donor-stewardship information. Naturally, you'll also want to create a parallel promotional track online with e-blasts that raise awareness and let your audience know to expect messages from you in the weeks ahead.
The Turn to Digital
The postcards with personalized URLs and the e-blasts you're deploying all lead to the same endpoint: your website. While phone calls (and, increasingly, SMS text messages) and direct mail continue to be important avenues for many nonprofits' year-end fundraising, donations made digitally are rising in importance, especially as organizations look to attract younger, more digitally savvy donors. The pandemic also acclimated many of us to a more virtual lifestyle as millions of donors and prospective donors began working, as well as ordering goods and services, from the comfort and safety of their homes.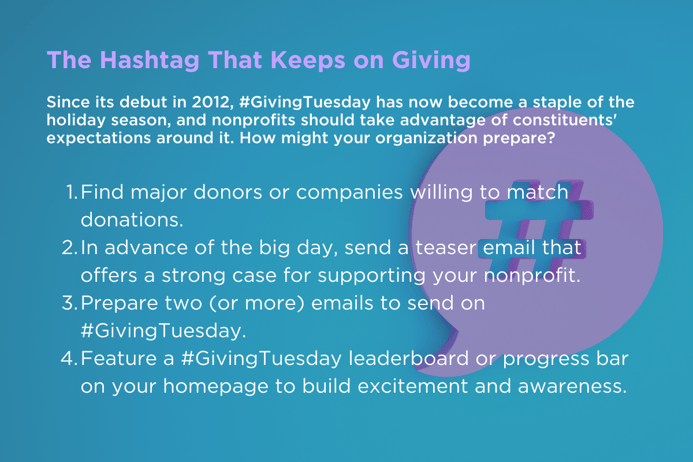 As a result, you'll want to have your web presence locked down ahead of launch. For instance, you might want to create a temporary homepage takeover with a pop-up announcing your campaign. It could include a live countdown to the end of the year to emphasize the campaign's urgency, or it could display a leaderboard of donations made thus far. (Keep in mind that you might not want to feature the leaderboard until it can display a respectable sum.)
Your site should also feature a can't-miss donate button in a prominent location — at the top of your homepage perhaps — and you should test it regularly. Tech glitches are a distinct possibility, so you want to be sure the path to donation is smooth and error-free. Same goes for any sign-up forms that allow you to capture site visitors' email addresses.
In addition, you'll want to ensure that the homepage, donation forms, and copy align with the overall theme of your campaign and, if you have the budget, think about running ads on social or print media to drive traffic to your site. Because the pandemic brought QR codes into wider use, you can add them to print media, be it an ad or mailer, to move constituents online and help you better track the efficacy of different touchpoints.
Of course, once visitors are on your site, there should be content that piques their interest. What would motivate or inspire them to engage with your mission or organization if they knew nothing about it? This is an opportunity to get creative and prepare content that, if you're lucky, goes viral. Instead of a white paper or video filled with talking heads, maybe you develop a social gaming campaign, online quiz, or augmented reality storyline.
Be careful not to produce anything too burdensome, though. If your content is time-consuming or arduous, your audience may become frustrated and opt-out.
That behavior can be easily tracked, however, via analytics like bounce rates and time on page. The ability to study constituents' online behavior allows nonprofits to A/B test a variety of messages, content, designs, etc., as well as to quickly adjust tactics and strategies that may not yield the expected results. For instance, if your email campaigns don't have a satisfactory CTR, A/B test your content, copy, or design. (Remember, though, to test a single element like the color of your button, not its size and placement simultaneously, because if you have more than one variable, you won't know which element is influencing the results.) Monitoring your analytics throughout the campaign means you can assess your efforts in real-time and pivot as needed to achieve your goals.
In fact, many of the communications channels now open to nonprofits have analytics capabilities that allow you to evaluate their performance as fundraising pathways. Integrating the channels also gives your donors and prospective donors the chance to choose their preferred giving method. For instance, by including links from your direct mail campaigns to online donation pages, you give constituents multiple avenues for learning about, exploring, and hopefully contributing to your mission. The data you glean will tell you which channels have the most traction and, thus, where you should concentrate your efforts.