As fundraisers, we talk a lot about stewardship. We also know relationships with donors are important at every giving level. But with lean teams and budgets, many have no choice but to focus on major gifts and annual fund donors. If this sounds familiar, you're missing an important piece of the pie.
Mid-level donors sit at the sweet spot of the donor pyramid and are poised to level-up their giving. With proper stewardship, they'll be tomorrow's lead donors. That's why we've developed the Mid-Level Masterclass.
Whether you're just starting a mid-level program, or you need to make the case for one, this series of webinars and eBooks will ensure you're stewarding these key supporters in a way that inspires long-term loyalty. Our resources have been carefully curated and feature industry experts to help you succeed. Here are the top takeaways:
Create unified data across departments. This data can help you identify donors who want to give more and are best suited to upgrade to mid-level giving and beyond.


To build your mid-level program, first put together a team of people who are collaborative and excel at developing relationships. Then, map the complete donor journey to ID all touchpoints across your organization. Monitor data regularly and inventory your content to ensure it's relevant to the mid-level donor experience.


Personalization is vital, even at a large scale. The right tech tools can help you automate highly customized outreach that makes your mid-level supporters feel seen and heard. When done well, you'll build a community that boosts donor loyalty.
Let's take a closer look at the resources you'll find in our Mid-Level Masterclass.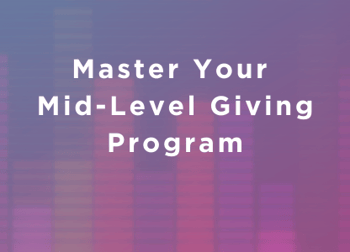 Mid-Level Accelerator
The Mid-Level Accelerator is a turnkey solution that can supercharge your mid-level giving program quickly.
Identify and cultivate annual fund donors who want to give more.
Learn the best way to invite your top mid-level prospects to upgrade their giving.
Create a thriving mid-level program that maximizes the revenue potential of your donor base.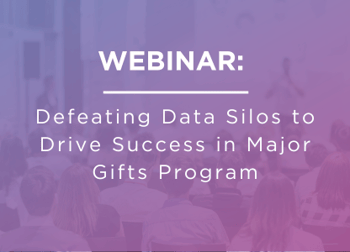 Webinar: Defeating Data Silos to Drive Success in Major Gifts Program
Mary Beth McIntyre, Principal at Win-Win Giving, shares why having unified donor data across fundraising departments is critical to success in a personalization-first world.
This 30-minute interactive session is ideal for those who aim to upgrade mid-level donors to the major gift level. You'll also get a matrix for determining which metrics matter the most and explore the necessary tools to consolidate information.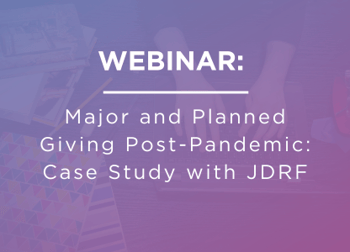 Webinar: Major and Planned Giving Post-Pandemic: Case Study with JDRF
We talk with Gillian Green, Vice President of Leadership Giving at JDRF, to learn how her team embraced digital transformation in their major gifts program. You'll learn:
Trends in major and planned giving post-pandemic
How JDRF built rich digital communities and grew donor loyalty
How to leverage data to identify your best major and planned giving candidates
How to create tailored, personal experiences at scale for these donors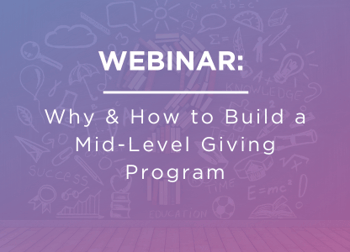 Webinar: Why & How to Build a Mid-Level Giving Program
This webinar is ideal for those with a new mid-level giving. Stephen Asare, Senior Manager of Donor Appreciation at Moody Bible Institute, shares what it takes to start a program from scratch, including:
What "mid-level" means for your organization
What those who lead a mid-level program do and the skills that make them successful
The benchmarks you can set to track your progress over time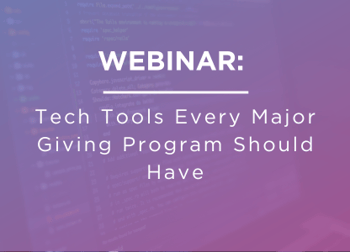 Webinar: Tech Tools Every Major Giving Program Should Have
Put what you've learned so far into practice. This session will cover the tools you need to drive your efforts. Join Dawn Galasso, GivingDNA's Vice President of Technology Sales, as we explore:
How to find the right technology for your specific program
How to identify your must-haves vs your nice-to-haves
How technology can manage and optimize your donor upgrade strategy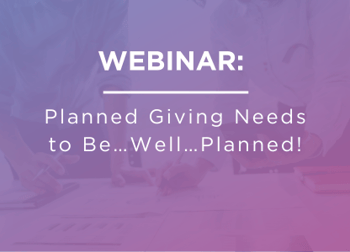 Webinar: Planned Giving Needs to Be…Well…Planned!
This bonus session features two special guests: Kirsten Jasna, Senior Director of Development from the Braille Institute of America, and Nicole Walton, Director of Partner Success from FreeWill. Together, we'll explore:
Demystifying and defining planned giving
Leveraging data to identify planned giving prospects that might not be on your radar
How these organizations have partnered to create a sustainable and thriving planned giving program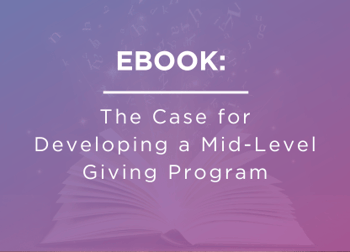 eBook: The Case for Developing a Mid-Level Giving Program
Mid-level donors are those that give between $500 and $5,000. And in 2021, this group saw less of a decline than other donor groups. Bottom line: you can't afford to overlook these supporters.
This eBook will help you build the case for leadership to invest in a mid-level giving program at your organization.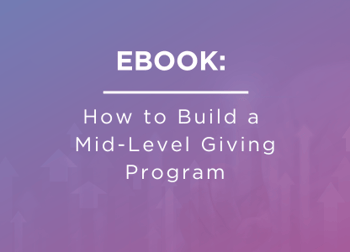 eBook: How to Build a Mid-Level Giving Program
No matter where you are with your mid-level giving program, this eBook will give you concrete details on how it comes together. Get the building blocks for a strong foundation:
Understand what "mid-level" means for your organization
Recognize the skills and traits that characterize the team you need to run the program
Determine what it takes to start such a program from scratch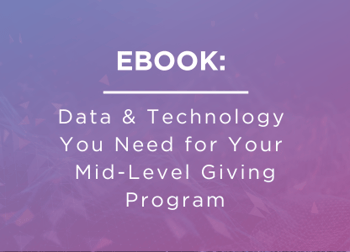 eBook: Data & Technology You Need for Your Mid-Level Giving Program
Mid-level donor prospects require special attention. This eBook outlines the data and tools that can help you scale a highly personalized approach:
The data you need to develop highly personalized campaigns for your mid-level giving prospects
How to track and measure the effectiveness of your mid-level outreach
Ways to automate aspects of your mid-level program that save time and maximize your staff's efforts
Ready to jumpstart your mid-level giving program? All resources are free on-demand and easy to download. Start the Mid-Level Masterclass today.
Need more help? Connect with one of our fundraising experts for one-on-one guidance or book a demo.